It was an original, innovative idea that convinced writer-producer-director Justin Lin to return to the Fast & Furious franchise for his fifth turn behind the camera with F9, a Fast homecoming that was joyful, but unexpected.
"I never expected to come back," says Lin, who had not directed the two most recent films, but maintained his relationships with producer and star Vin Diesel and the Fast family. "I thought that the saga we had explored in the four films we had made together was it for me. But one morning I woke up and I was just inspired by the fact that there is something more to the Fast mythology that we should explore."
"What I love about the Fast franchise is that the films have never been the same story over and over again. They're always moving forward. That's great, but I thought there was an opportunity to create a film that took the eight previous films and put them together in a way that answered the big questions that Fast fans have wondered all these years, questions that have remained unanswered … until now."
Upcoming, Lin will direct parts 1 and 2 of Fast & Furious 10, the final installment in the Fast saga.
Diving deep into the previously unexplored backstories of the franchise's most beloved characters, and delving into themes of fatherhood, brotherhood and betrayal.
"It was important to me that this next chapter emotionally be the connective tissue for the whole saga," Lin says. "Thematically, I felt we needed to make a film where the characters had to come to terms with their pasts so that they could have hope for the future."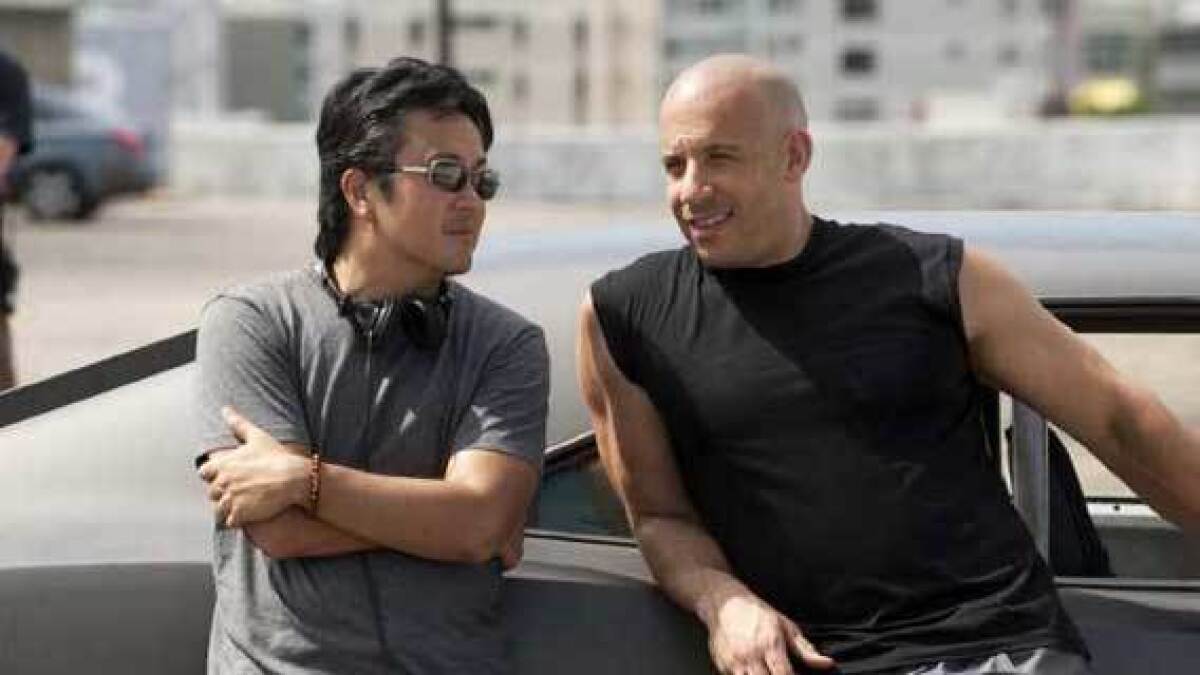 At the center of that emotional exploration, of course, is Diesel's Dom Toretto, who, through the arrival of his estranged brother, Jakob (John Cena), is forced to confront some of his most private and painful memories. In F9, we learn how Dom became the man he is, and why family, both chosen and biological, is so essential to him.
"What F9 does is shed light on how Dom has managed his vulnerability his whole life," Diesel says. "That's what's so fun about the evolution of this character, because it's something that we all can identify with."
As the film begins, Dom is at a crossroads. Fatherhood has shifted the focus of his adrenaline-fueled existence to a more sedate life off the beaten path. Living on his farm with Letty (Michelle Rodriguez) and taking care of Little Brian brings a wealth of new responsibilities, and while Dom feels the weight of it all, Letty, too, is struggling in her new role. Their relationship is feeling the strain and is thrown into further chaos with the arrival of Ramsey (Nathalie Emmanuel), Roman (Tyrese Gibson) and Tej (Chris "Ludacris" Bridges), who inform Dom and Letty that the plane of Mr. Nobody (Kurt Russell) has gone down in the Central American jungle with the notorious Cipher (Charlize Theron) in his custody. The team has come to Dom and Letty expecting the couple to join them and get back into the espionage game. Letty is up for it, but, to everyone's shock, Dom opts out.
"When we have children, the stakes are higher," Diesel says. "Now everything Dom does, he has to consider the true source of his vulnerability: his child. It's not that Dom is ecstatic about living on the farm. He's governed by necessity. There's a lot of unfinished business in this world that he's been living in. A lion is vulnerable because of its cub, and that's who Dom is. In order to protect his cub, this is the sacrifice he makes."
When Justin Lin was inspired to delve into Dom Toretto's past for F9, it provided an exquisite opportunity to connect thematic and emotional threads that have woven through the franchise from the beginning.
From the start, Lin knew he wanted to use Dom's iconic line, "I live my life a quarter mile at a time"—which Dom says to Brian O'Conner in the very first film— to lay the emotional foundation for F9, if not for the whole franchise. Lin saw the line as the defining moment that shaped Dom Toretto as a modern-day outlaw with a staunch moral code.
Vin Diesel thought the idea was a stroke of brilliance that captured the heart of the entire franchise. "I'm excited that we've taken what was just a conversation in a garage between Dom and Brian two decades ago and are contextualizing it and elaborating on how Dom felt in that moment," Diesel says. Dom is a man who doesn't look back. Now, though, in F9, he's forced to.
What fans will come to learn over the course of the film is exactly why Dom is so emphatic about protecting his son and worries about leaving Little Brian without a father.
"When we catch up with Dom at the start of F9, he has taken the path of the retired gunslinger who's looking for peace and a little bit of solitude," says Lin's fellow screenwriter Daniel Casey, who conceived the story of the film with Lin and Alfredo Botello. "After the events of The Fate of the Furious, it's become clear now that Dom has powerful enemies and so he's looking to keep his family safe at any cost. The idea that one day he may wind up killed on a mission that's too dangerous and not be there to see his son grow up is always in the back of his mind."
What Dom discovers, of course, is that you can't avoid your destiny, or your past, no matter how hard you try, or how great the risk.
"There are many interesting aspects of this storyline that are going to surprise our audience and unravel more of the identity of the characters that they're so familiar with," Diesel says. "For Dom to be a father in the truest sense, he has to go and revisit his past."
For Lin, F9 would once again push the boundaries of the hyper-real driving and fighting action that fans have come to expect, but it would also challenge the cast, most of whom have inhabited their characters for close to 20 years.
"We are really going to push our characters and their emotional arcs to the limit," Lin says. "I think that has always been the secret to the phenomenal success of the Fast franchise. I know people talk about the action, but really, at its core, it is about all these characters evolving and taking them places emotionally that no one has ever seen before."
Lin's plan would once again elevate and energize the franchise by juxtaposing thought-provoking themes and plot twists with innovative action.
The cast, it's fair to say, was blown away when they finally got their hands on the script, not least because of the jaw-dropping revelations that Dom and Mia (Jordana Brewster) have a brother—a dangerous one, at that—and that Han (Sung Kang) is alive.
"'A long-lost Toretto?! And he's the villain?!'" Chris "Ludacris" Bridges remembers thinking when he first read the screenplay. "That's what excited me most when I first read the script. Han's return was a close, close second. I knew fans were absolutely going to lose their minds when they found out that Sung had come back. I was ecstatic. Sung is just a great person all around; his energy is phenomenal."
For Jordana Brewster, the revelation of another Toretto sibling was a welcome piece to the puzzle of the family backstory that shed light on Dom and Mia's origin story.
"The Toretto family has always been a mystery, so to have those pieces filled in after so many years is really interesting to me as an actress," Jordana Brewster says. "It informs where Dom's been coming from all these years, and then you understand, all the more, the importance of the makeshift family they've brought together. By adding the Jakob element, now we get to explore all that and try to reconcile the past and a possible future. Mia has a lot invested in the outcome as well, so she's also very wary of how Dom handles the news."
And, of course, the cast was thrilled to be working with Lin again. Led by Diesel, one of the franchise's principal architects for the past two decades, the cast fully embraced the return of the visionary director who transformed the series into a global blockbuster. "To wrap up this era of the saga I knew I needed the longest-running director in the franchise as my partner," Diesel says.
Several years after the extraordinary, record-smashing opening of The Fate of the Furious, production on the long-awaited ninth chapter,F9, began in London during summer 2019.
The Writers
Justin Lin (Directed by/Produced by/Story by/Screenplay by) is a Taiwanese-born American filmmaker whose popular movies have grossed more than $2 billion worldwide. He is responsible for re-booting The Fast and The Furious franchise, along with creating innovative projects in both TV and film. Upcoming, Lin will direct parts 1 and 2 of Fast & Furious 10, the final installment in the Fast saga. Previously, Lin directed the critically acclaimed blockbuster Star Trek: Beyond, the last film in the modern Star Trek trilogy. His directing credits also include Universal's box-office blockbusters The Fast and The Furious: Tokyo Drift, Fast & Furious, Fast 5 and Fast & Furious 6. His directorial debut, the critically acclaimed Better Luck Tomorrow, premiered at the Sundance Film Festival. On the TV side, Perfect Storm Entertainment and Lin produced the hit series Scorpion, S.W.A.T. and Magnum P.I. for CBS, and are currently in production on the third season of Warrior for HBO Max. In 2012, Lin founded Perfect Storm Entertainment with the intent of producing films and television with a global perspective. Lin also formed the digital company YOMYOMF to give a new outlet for aspiring Asian American filmmakers.
Daniel Casey (Story by/Screenplay by) made his feature directing debut with The Death of Michael Smith in 2006. Casey's writing work includes 10 Cloverfield Lane, The Heavy and The Pinkerton for Bad Robot and Producer JJ Abrams, and an upcoming adaptation of the classic anime Battle of the Planets for AGBO and director/producers Anthony and Joe Russo. Casey wrote Kin, released by Lionsgate in 2018, and recently penned a feature adaptation of the Clifford D. Simack novel Way Station for 6th and Idaho Productions and director/producer Matt Reeves. Presently, Casey is working on an untitled project for DC films and Warner Bros. and is prepping his original script Wardriver, as writer/director, for Star Thrower Entertainment.
Alfredo Botello (Story by) was born in Madrid, Spain, and raised in Los Angeles. After a detour studying architecture in Germany as a Fulbright Fellow, Botello's screenwriting career began in earnest when he won the Nicholl Fellowship in Screenwriting for The Crasher. Since then, he has worked on projects for Paramount, Fox, Universal, Warner Bros. and several independent producers. He co-directed Reality Reboot, a web series for the YOMYOMF Network YouTube channel, and he wrote and solely directed the series Passive-Aggressive Boyfriend.
Gary Scott Thompson (Based on Characters Created by) is the creator and executive producer of NBC's hit series Las Vegas and the co-writer of the hit film The Fast and the Furious. GST (as he is known by cast and crew members) was born in Ukiah, California, but spent a formative part of his childhood in Pago Pago, American Samoa. GST first gained exposure to the world of entertainment as an actor, having studied the craft from notable actors such as Powers Boothe while a student at the Pacific Conservatory Theatre. He received his BA from the University of California, Irvine, and his MFA from New York University. Upon graduation from NYU, GST worked as a playwright. His theater credits include Small Town Syndrome, Cowboys Don't Cry and Private Hells. His feature-film credits include The Fast and the Furious, 2 Fast 2 Furious, Fast & Furious, Fast Five, Fast & Furious 6, Hollow Man, 88 Minutes and the cult classic Split Second.