Opera From The Metropolitan Opera in New York
Opera buffs are in opera heaven with the Met's series of free Nightly Opera Streams that features outstanding performances from the award-winning Live in HD series.
A great advantage for South Africans is that it is streamed nightly in the US, which means we can watch it daily until midnight!
You can watch it in subtitles and there as some fantastic backstage interviews after each viewing. Start watching now.
Week 58: This week of free Nightly Opera Streams celebrates virtue, freedom, and the power of the human spirit. Enjoy a remarkable lineup of inspiring operas, including never-before-streamed telecasts of Verdi's Simon Boccanegra and Beethoven's Fidelio.
Wednesday, April 21, Mozart's La Clemenza di Tito
Mozart turns an ancient Roman story of desire, betrayal, murder, and public unrest into something timeless and profound.
Jean-Pierre Ponnelle's dramatic production brings ancient Rome to life for this gripping tale of revenge, terror, and attempted murder. Giuseppe Filianoti is the Emperor Tito who chooses Servilia (Lucy Crowe) to be his Empress. But when she tells him she is already in love with Annio (Kate Lindsey) he decides to wed Vitellia (Barbara Frittoli) instead. Unaware of the honor about to be bestowed on her, Vitelllia, daughter of the deposed emperor, is determined to seek revenge on Tito and ensnares her lover Sesto (Elīna Garanča) in her dark plot. Early music specialist Harry Bicket conducts. From December 1, 2012.
Thursday, April 22, Puccini's La Fanciulla del West
Puccini's action-packed tribute to the American Wild West. Its sweeping, evocative score deftly captures the feel of a Gold Rush–era mining camp—the perfect place for a sweet-talkin' bandit to fall for a gun-totin' bar owner with an enormous soprano voice and a heart of gold.
Puccini's musical vision of the American West is vividly brought to life in Giancarlo Del Monaco's atmospheric production. Deborah Voigt is Minnie, the girl of the title and owner of a bar in a Californian mining camp. Marcello Giordani sings Dick Johnson, the bandit-turned-lover hunted by the cynical sheriff Jack Rance (Lucio Gallo), who wants Minnie for himself. Complete with whiskey-drinking cowboys, gunplay, a poker game, and a snowstorm, La Fanciulla del West is Puccini at his most colorful. From January 8, 2011.
Friday April 23, Verdi's Simon Boccanegra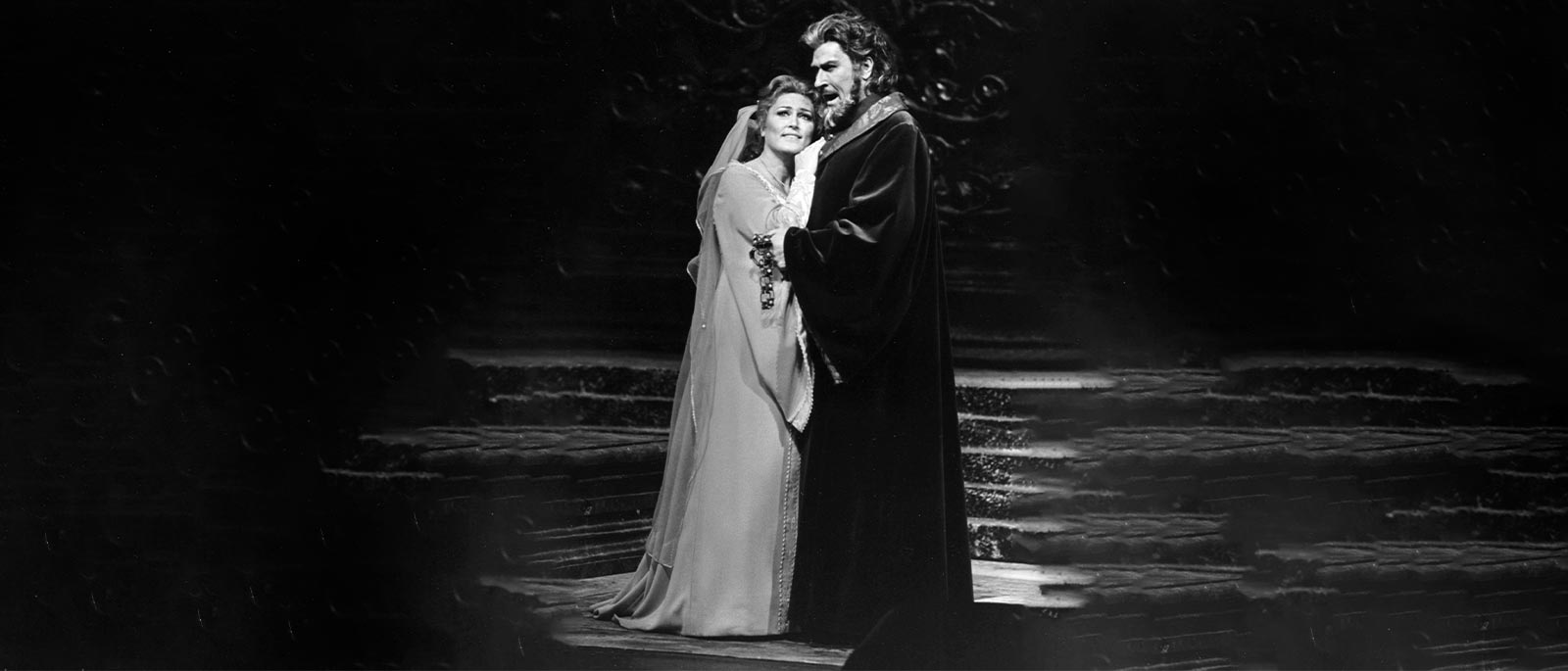 The title ruler of Simon Boccanegra is one of the repertory's most compelling characters, a 14th-century Doge of Genoa, beset on all sides, juggling political adversaries bent on murder with his love for his long-lost daughter Amelia. In addition to Boccanegra's searing internal conflict between public duty and private grief, the story offers cloak-and-dagger intrigue, passionate young love, and noble sacrifice—set to an unfailingly dramatic, enveloping score that only Verdi could have created.
Sherrill Milnes brought vivid theatrical force to his portrait of Simon Boccanegra, mixing poetry and power to reveal Boccanegra's heart to the audience. Anna Tomowa-Sintow is the long-lost daughter he finds, but, he discovers, she loves Gabriele Adorno (Vasile Moldoveanu), a man determined to destroy him. James Levine's superb conducting and Tito Capobianco's dramatic production add to the gripping performance.
Saturday, April 23, Philip Glass's Satyagraha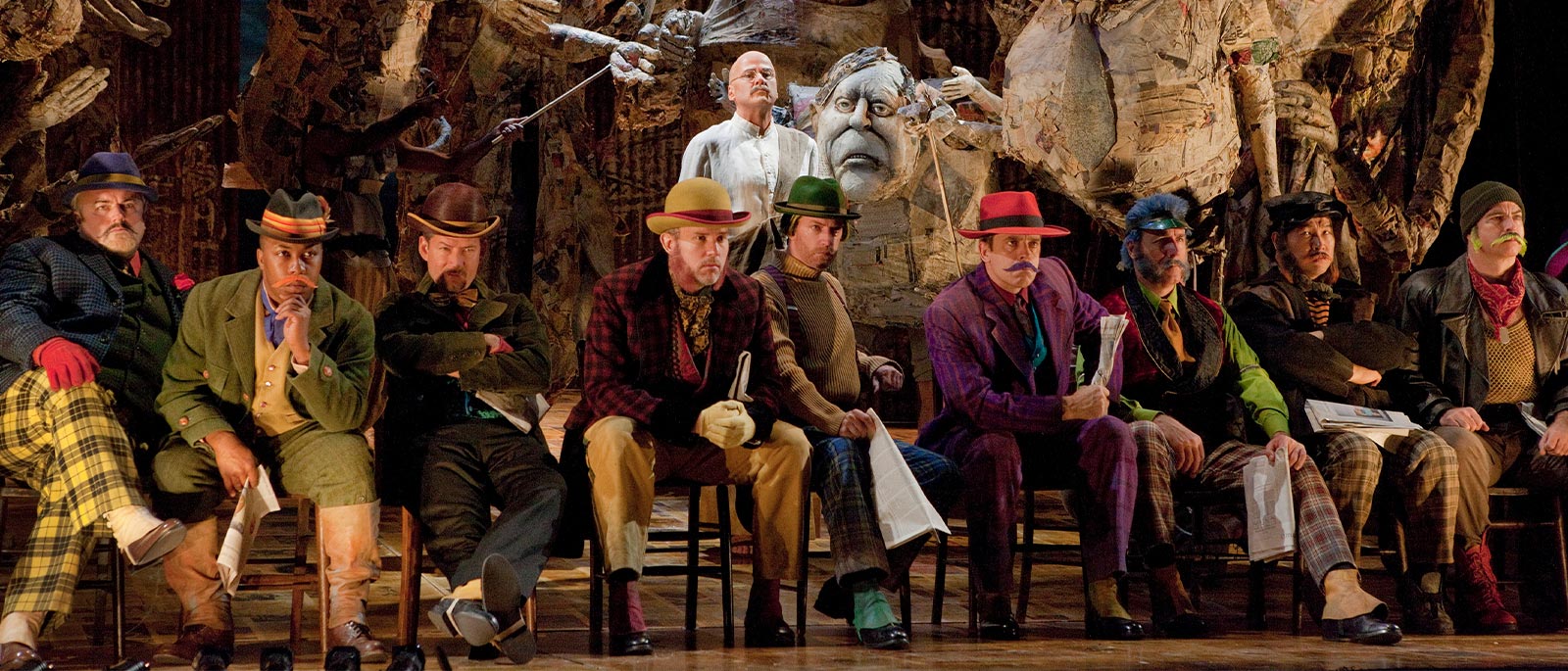 Philip Glass's Satyagraha is inspired by Mahatma Gandhi and his ideology of achieving change through peaceful protest and civil disobedience. With a libretto assembled using text from the Bhagavad Gita, sung in the original Sanskrit, the opera has no concrete plot, instead layering various historical vignettes, political statements, philosophical musings, and parables to form a meditative work that is as much manifesto as music or theater.
Set to lines from the Hindu Bhagavad Gita, Satyagraha depicts scenes (arranged thematically rather than chronologically) from the life of Gandhi as he developed his philosophy of non-violent resistance in South Africa between 1896 and 1913. Director Phelim McDermott made his debut with a production that employed everyday materials like newspaper and corrugated tin to create towering puppets and striking tableaus. In this 2011 performance, tenor Richard Croft gives a moving performance as Gandhi, leading a remarkable ensemble cast conducted by Dante Anzolini.
Sunday, April 25, Beethoven's Fidelio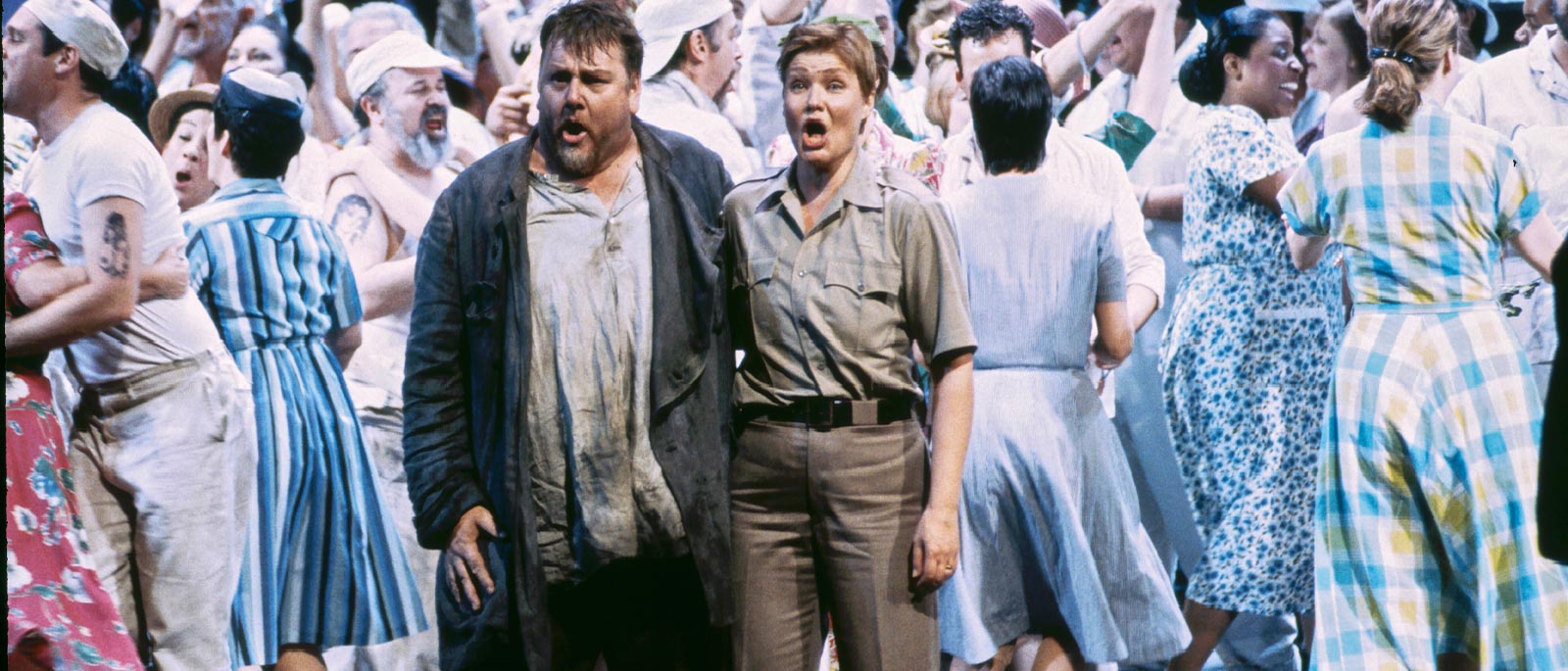 Jürgen Flimm's haunting production of Beethoven's only opera Fidelio brings the work's desperate plea for freedom and justice into the modern era, reminding us just how powerful and urgent its story is. Under James Levine's passionate leadership, Beethoven's score blazes, as does the superb cast. Karita Mattila is Leonore, the faithful wife who disguises herself as a man to search for her husband Florestan (Ben Heppner), unjustly imprisoned by his political enemy, Pizarro (Falk Struckmann). René Pape is Rocco, the jailor caught between conscience and duty. The work's magnificence does not depend on psychological nuance or development but rather lies in the music's ability to overwhelm the audience with the power of genuine emotion. From October 28, 2000.
Monday, April 26, Poulenc's Dialogues des Carmélites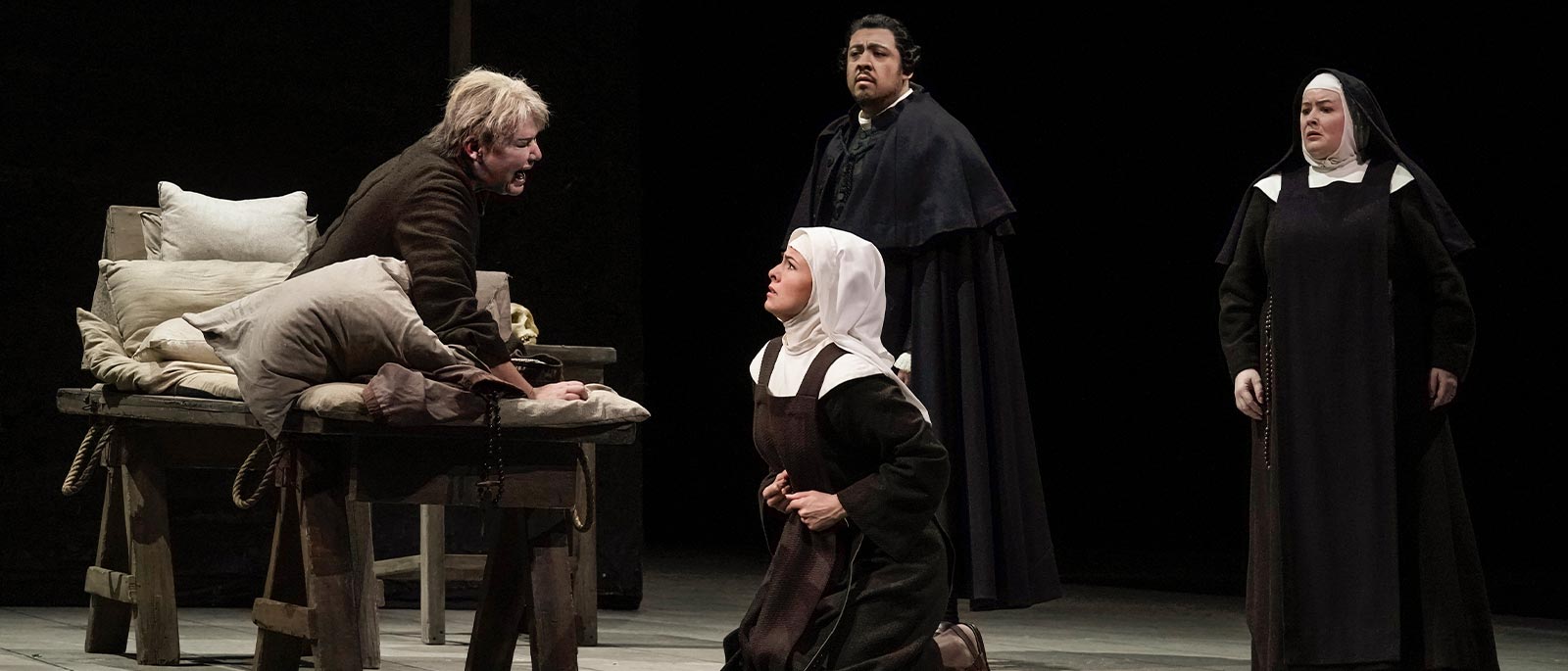 Since its premiere in 1957, Poulenc's shattering drama about a group of Carmelite nuns during the French Reign of Terror has maintained its ability to shock: Its blunt final scene is about as intense and gripping as opera gets. But the opera is also disarmingly tender, with scenes of great intimacy and sweetness, and a sensitive score well suited to its almost entirely female cast. The composer's deep-seated fascination with spiritual music enabled him to craft an opera that brilliantly conveys the power of faith and loyalty, even during one of history's darkest moments.
To close out the 2018–19 season, Music Director Yannick Nézet-Séguin led a starry revival of the opera, which was also included as part of the Live in HD series of cinema transmissions. Mezzo-soprano Isabel Leonard is the fearful Blanche de la Force, who joins a convent of Carmelite nuns in order to escape the terrors of the French Revolution. The exceptional cast also features sopranos Erin Morley and Adrianne Pieczonka and mezzo-soprano Karen Cargill as some of Blanche's fellow sisters, with tenor David Portillo as the protective Chevalier de la Force. Maestro Nézet-Séguin leads a gripping performance throughout—from the opera's chaotic first bars to the chilling death scene of Madame de Croissy (sung by the incomparable Karita Mattila) to the work's harrowing final moments.
Week 59: City of Light
Tuesday, April 27, Puccini's La Bohème
Puccini's timeless love story, which includes some of its composer's most beloved music, has moved generations of opera lovers since its 1896 world premiere. It has also proved incredibly popular with the Met's global HD audiences and has been featured in three live high-definition transmissions since 2008. The most recent, presented during the 2017–18 season, includes a cast of celebrated young artists. Soprano Sonya Yoncheva is the fragile seamstress Mimì, who instantly falls in love with the passionate poet Rodolfo, sung by tenor Michael Fabiano. Soprano Susanna Phillips and baritone Lucas Meachem trade both spars and kisses as the on-again-off-again lovers Musetta and Marcello, with bass Matthew Rose and baritone Alexey Lavrov rounding out the rambunctious gang of bohemian friends. Maestro Marco Armiliato takes the podium to lead Franco Zeffirelli's picturesque staging.
Wednesday, April 28, Lehár's The Merry Widow
Renée Fleming lights up the Met stage as Hanna Glawari, the fabulously wealthy widow of the title in Lehár's beloved operetta, set in Paris and seen in a glittering production directed and choreographed by Broadway's Susan Stroman. Nathan Gunn is Danilo, Hanna's former flame, who is supposed to woo and marry her in order to keep her fortune in their home country of Pontevedro. Kelli O'Hara sings Valencienne, the flirtatious young wife of the Pontevedrian ambassador in Paris, Baron Zeta, played by Thomas Allen, and Alek Shrader is her suitor, Camille. Andrew Davis conducts the waltz-rich score, and the new English translation is by Jeremy Sams. From January 17, 2015.
Thursday, April 29. Giordano's Andrea Chénier
Luciano Pavarotti is at his most ardent as the romantic poet Andrea Chénier who is overwhelmed by his impossible love for the beautiful Maddalena (Maria Guleghina). She is a pampered aristocrat and he is but a poor member of the French Revolution. But even though their entire world is being torn apart in by unprecedented violence, their love will not be denied—even if it costs both of them their lives. Juan Pons is Gérard, Maddalena's former servant who loves her enough to give her up. James Levine leads the impressive forces with impassioned, idiomatic conducting. From October 15, 1996.
Friday, April 30, Massenet's Manon
Lisette Oropesa stars as the irresistible heroine of Massenet's Manon. As the young ingénue, Oropesa delivers a stunning performance, marked by brilliant coloratura, melting lyricism, and enchanting stage presence. Recorded as part of the Met's Live in HD series of cinema transmissions, this performance also features tenor Michael Fabiano as the impetuous Chevalier des Grieux and baritone Artur Ruciński as Lescaut. Maurizio Benini is on the podium to lead one of the most passionate scores in the French operatic repertoire. From October 26, 2019.
Saturday, May 1, Verdi's La Traviata
James Levine leads a remarkable cast in one of Verdi's most enduringly popular operas and brings fresh insights to this beloved score. Ileana Cotrubas is poignant and touching as Violetta, the consumptive courtesan who finds true love with Alfredo, sung with style and passion by the great Plácido Domingo. Cornell MacNeil is Germont, Alfredo's father, who forces the two apart, setting in motion events that lead to a shattering and tragic conclusion. Colin Graham's production features design by Tanya Moiseiwitsch and choreography by Zachary Solov. From March 28, 1981.
Sunday, May 2, Cilea's Adriana Lecouvreur
A gem of the verismo repertoire, Cilea's Adriana Lecouvreur has only appeared a handful of times on the Met stage. When it has, however, it has often showcased some of opera's greatest divas in the commanding title role, including Renata Tebaldi, Montserrat Caballé, and Renata Scotto. During the 2018–19 season, superstar soprano Anna Netrebko joined the ranks of these incomparable artists, starring opposite mezzo-soprano Anita Rachvelishvili, as the fearsome Princess of Bouillon, and tenor Piotr Beczała, as her ardent lover, Maurizio. In this performance, recorded as part of the Met's Live in HD series, Gianandrea Noseda conducts Sir David McVicar's new staging, which teems with lurid backstage intrigue and political maneuvering.
Monday, May 3, Puccini's La Rondine
Puccini's achingly beautiful score charmingly conveys the plight of Magda (the "swallow" of the title) who unexpectedly finds true love with the handsome young Ruggero. But their idyllic and happy life comes to an premature end as she is haunted by the fear that her checkered past will ruin his future. Real-life couple and operatic stars Angela Gheorghiu and Roberto Alagna portray Puccini's star-crossed lovers. Ezio Frigerio's elegant and sophisticated art deco sets add a dazzling touch to Nicholas Joël's production, which premiered in 2008.
Registration on the Met Opera site is free. Visit website