Director and co-writer Armando Iannucci (In the Loop, The Death of Stalin, HBO's Veep) and Simon Blackwell (In the Loop, HBO's Succession) lend their wry, yet heart-filled storytelling style to revisiting Dickens' iconic hero on his quirky journey from impoverished orphan to burgeoning writer in Victorian England.
Charles Dickens's The Personal History, Adventures, Experience and Observation of David Copperfield the Younger of Blunderstone Rookery was first published in serial installments but came out in its entirety as a book in 1850. In the 170 years since, the world has changed drastically, but Dickens's story of a young man's rocky adolescence and long—equally comic and tragic—road to adulthood hasn't lost any of its impact.
Reinventing a Dickens Classic
A lifelong fan of Charles Dickens, Armando Iannucci had a creative spark a few years ago while re-reading the author's acclaimed eighth novel, David Copperfield, which was first published in 1850. "I thought, 'I want to make this as a movie,'" says Iannucci. "It felt so contemporary, but also because the adaptations I've seen are all so serious and centered on the drama and the plot. There is a lot of plot and drama, but to me those are the least interesting things about the story."
"I've always had an affinity for Dickens. I've always loved reading Dickens and I've always seen him as a humorous writer. I think we have this idea of him as being this kind of very heavy, verbose writer of long Victorian novels, but actually, the novels I've read, especially the earlier ones, are just really very, very funny. And that's what made him famous initially, was his kind of witty writing, and stories that had this mass appeal. I've always admired that and I've always admired his ability to use the platform he had to talk about the state of the nation. I've always felt drawn towards that in terms of something to admire and try and emulate. And then I re-read David Copperfield about 10 years ago, and was struck by how modern it was as a novel. "
The "hilarious scenes in the book," says Iannucci (like David getting drunk for the first time) were the most exciting to him to explore. "There are moments of almost slapstick comedy, like when David joins the law firm and has to negotiate his way around the creaking floorboards. And when he falls in love with Dora and imagines seeing her face everywhere, even in the clouds. It's a very surreal, yet very real book. I wanted to get that across in the movie."
"The whole book is about David trying to work out who he is and had very contemporary themes like status anxiety and imposter syndrome. Do I fit in? What do people make of me? Will I be found out? These seem very contemporary."
Iannucci desperately wanted to make the film because it's about a writer. "Someone who more or less comes to the realization that what they are is a writer. Especially in the early part of my career, I spent my time thinking that it wasn't really a job, that I was sort of putting off having a job by writing. And then you realize, no, that is actually what you do. Plus, I kind of felt that adaptations of classic novels have a tendency to be very reverential towards the plot at the expense of everything else. So for me, it wasn't the plot at all, it was the language, it was the humor, it was the play on imagination. And that's what I wanted. That's why I thought I've got to make this as a film, because that film would give me the opportunity to do that. Yes, we'll tell the story, but I'll take liberties with the story to make it work as a film. But what I want to keep is the humor and the characterization and the play on the use of language."
The Personal History Of David Copperfield, his third feature film, wasn't Iannucci's first stab at Dickens: In 2012, he wrote and starred in the BBC TV special Armando's Tale of Charles Dickens, a re-evaluation of the author "without the Victorian seriousness." And after years spent ingenuously turning dense political narratives into comedic farce via projects such as In the Loop, In the Thick of It and HBO's Veep, Iannucci turned once again to his frequent collaborator and co-writer Simon Blackwell.
"The modernity of David Copperfield has always been lost [onscreen] the minute people put on their bonnets," says Blackwell. "It's one of the funniest books I've ever read. It's also a very long, just over 600 pages, so when you have to fit it into a film or series, the tendency is to take out the comedy because it doesn't carry the story. But it's genuinely funny. You never think, 'Oh, I can see why that would have been funny in 1850.' It just is."
"David Copperfield helped get me into Cambridge University. I was poorly read when I arrived for my interview at Churchill College. Thankfully I knew some Dickens, and it just so happened the bloke interviewing me was also a fan. Writing [the screenplay for] The Personal History of David Copperfield with Armando [Iannucci] had a real resonance – for me it changed everything. "
Dickens is so often treated very reverentially, but Iannucci' gave himself permission to play with the words and plot of the story here.
"That was the first decision we made really. Because Simon [Blackwell, my co-writer] did a first draft that consisted entirely of lines written by Dickens. It was a very good read, but it wasn't a movie. It was a series of episodes in the life of someone, and that immediately told us that the big decision to make was actually not to feel absolutely hidebound by the plot. To take liberties with it, but try and preserve those themes of memory, imagination, childhood, growing up, and trying to work out who you are."
"It's something that has been going on in theater for decades, but strangely film is very literal about these things," says Iannucci'. Yes, it's set in 1840 in London and so on, but it's a film, it's not a documentary. It's a story. And the reason I'm making this and adapting this old, old story is because I feel it's relevant and worth telling now, and that it appeals to the world now. And it's important that I think the audience there can see themselves up on the screen. I want people to feel that this story is happening in front of them now. That the cast, the characters, they are in 1840, but for them, that's the present. So they should behave like they're in the present. In their present. And, well, there aren't that many cinemas open at the moment, but the audience at home should feel that they could stand up and walk into the screen, really, and still feel at home."
"I hope it's an appreciation of those who look out for them and look after them, really, whether it's family or friends or community. Beyond that, if it inspires people to read Dickens or to read about the time or to read about the history, then that's great, as well. Or if it just turns people to reading, that's great. But fundamentally it's there as an entertainment and as something for all generations and hopefully it leave them with a positive message about themselves, actually," Iannucci concludes.
Casting the Perfect Players
Assembling the ideal acting ensemble was the crucial first step to bringing this story to life. It's a process that Iannucci says had a non-negotiable edict of color-blind casting. "I wanted as varied a cast as possible," says Iannucci, whose heart was set on Dev Patel for the lead role of David. "Dev was the only person I could think of and he was the first person I spoke to about it. I'm so relieved he said 'Yes' because I didn't have a Plan B!"
"There wasn't an overtly political decision. Really. It was more, I could only think of Dev playing David. That was it. I knew I was thinking about David Copperfield and was thinking who could play him. And I was thinking of this person, that person, and then I kept going back to Dev. And I knew Dev could play comic and vulnerable and awkward, growing up and all that. It was when I saw him in Lion being very strong and powerful and still. I immediately went, "That's David Copperfield," and once that thought I had entered my head, it wouldn't leave. I had to have Dev and I was so grateful he said yes. And then once that happens, you then think, "Okay, that's how I should cast everyone. I should cast the person who I just feel instinctively they are the part, they inhabit, they possess the soul of that character."
But Patel's casting was just the first step in a mammoth undertaking. Faced with the daunting task of filling fifty speaking parts, Iannucci reunited with casting director Sarah Crowe, with whom he worked on the 2001 TV comedy The Armando Iannucci Shows and who won the first BIFA award for casting for her work on Iannucci's The Death of Stalin. "We are really fortunate to have gotten such a brilliant cast," says Blackwell of the luminary set of performers Crowe was able to match so expertly to Dickens' timeless characters.
The Screenwriters
Armando Iannucci is a multi-award winning writer, filmmaker and broadcaster, who has written, directed and produced numerous critically acclaimed films, television programmes and radio comedy shows. Awarded Outstanding Achievement In Writing at the British Comedy Awards in 2011, and the Scottish BAFTA for Outstanding Contribution to Film and Television in 2017, Armando has cemented his position as one of the most important voices in comedy. His upcoming adaptation of Charles Dickens' David Copperfield is Armando's third directorial feature film.
Armando's screenplay for his debut film In The Loop was nominated for an Oscar at the Academy Awards. His second feature, The Death of Stalin, was both a critical and commercial success, garnering a number of awards nominations and wins – including BAFTAs, BIFAs and a Critics' Choice award – as well as making it onto Barack Obama's coveted "Favorite Movies of 2018" list.
Armando began his career as a radio producer, working on 'The Mary Whitehouse Experience' and creating 'On The Hour'. This spoof news show transferred to television as 'The Day Today' and spawned Alan Partridge, whose award-winning TV and radio shows and big screen outing in 2013's Alpha Papa were produced and co-written by Armando.
Armando has also fronted his own satirical comedy programmes, including 'The Friday Night Armistice' on BBC Two, his self-titled show on Channel 4 and his Radio 4 show 'Armando Iannucci's Charm Offensive'. He has also appeared on Radio 4 panel shows such as 'The News Quiz'and 'The Unbelievable Truth', and has worked on a number of Radio 3 programmes due to his passion for classical music – which lead to his latest book, 'Hear Me Out'. He is also a highly respected observer of global politics, regularly appearing as a panelist on 'Question Time', as well as the BBC's flagship programmes 'Newsnight' and 'Daily Politics'.
For several years Armando ran his own unit at the BBC, developing and producing projects with the likes of Julia Davis and Stewart Lee. These included co-executive producing Davis' sitcom 'Hunderby', which won 2 British Comedy Awards, a BAFTA Craft Award and garnered a further 2 BAFTA TV Award nominations following its debut. He also executive produced and appeared on the first two series of the highly acclaimed 'Stewart Lee's Comedy Vehicle'. Armando's iconic series for the BBC, 'The Thick of It', was nominated for 13 BAFTA Awards, winning 5 during its four series run. Next turning his attention to the inner workings of American politics, Armando created, executive produced and helmed the first four seasons of HBO sitcom 'Veep'. Set in the Vice President's office, the show has been enormously successful; nominated for over 180 major awards, and picking up 17 Emmys including 3 for Outstanding Comedy Series, with Armando taking home Outstanding Writing for a Comedy Series in 2015. Several seasons delivered Writers' Guild of America Award wins for Best Comedy, and the show has been nominated for a number of Golden Globes.
Armando has been a regular columnist for The Observer and Gramophone, and a collection of his early newspaper work for the Telegraph and The Guardian was published in a 1997 collection, 'Facts And Fancies', and a 2009 volume, 'The Audacity of Hype'. His most recent book, 'Hear Me Out' – a collection of his writing on classical music – was released in 2017.
Armando is currently in pre-production on his new HBO space comedy series 'Avenue Five'.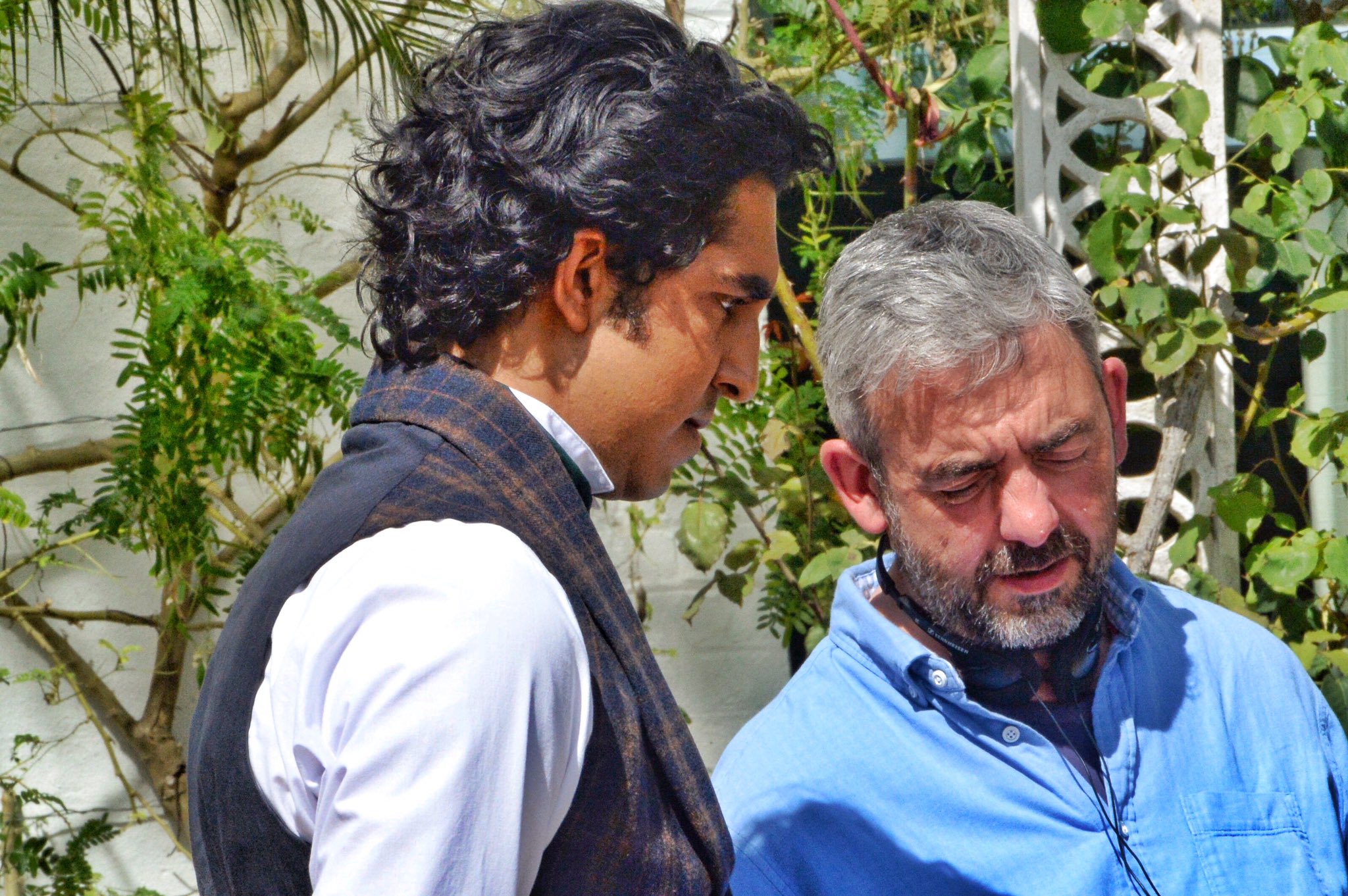 Simon Blackwell is a double Emmy-winning, Oscar and Bafta nominated screenwriter. He has worked with Armando Iannucci since 2003, writing on all four series of political sitcom 'The Thick Of It' and co-writing its spin-off film In The Loop, which was nominated for two Baftas and the Academy Award for Best Adapted Screenplay. Simon co-wrote the pilot episode of HBO's 'Veep' with Armando, and served as writer and executive producer on the subsequent four seasons, for which he won two Primetime Emmys and two Writers Guild of America awards.
He has co-written the pilot episode and is serving as executive producer on Armando's forthcoming HBO series 'Avenue 5'. Other film work includes Chris Morris's Four Lions, which he wrote with Chris, Jesse Armstrong and Sam Bain. Simon had previously collaborated with Jesse and Sam on the cult Channel 4 sitcom 'Peep Show', and has since written with Jesse on HBO's 'Succession'. In 2017 Simon created and wrote the critically acclaimed Channel 4 and Sundance series 'Back' and has co-created the upcoming Martin Freeman comedy 'Breeders' for FX and Sky.