Opera At Its Best From The Metropolitan Opera in New York
Opera buffs are in opera heaven with the Met's series of free Nightly Opera Streams that features outstanding performances from the award-winning Live in HD series.
A great advantage for South Africans is that it is streamed nightly in the US, which means we can watch it daily until midnight!
You can watch it in subtitles and there as some fantastic backstage interviews after each viewing. Start watching now.
Week 61: Leading up to the 2021 National Council Auditions Grand Finals Concert on May 16, Enjoy a week of free streams celebrating some of the extraordinary Met artists who have participated in the program over the past 60 years—as well as an exclusive screening of Susan Froemke's documentary The Audition.
Wednesday, May 12, Mozart's Don Giovanni
A pair of National Council Auditions finalists from the 1970s—bass-baritone Samuel Ramey and soprano Carol Vaness—share the stage in this classic telecast of Don Giovanni. Imbuing the familiar Don Juan myth with a captivating combination of comedy, seductiveness, danger, and damnation, Mozart created an enduring masterpiece that has been a cornerstone of the repertory since its 1787 premiere. The opera offers a rare opportunity for two low-voiced men to star alongside one another as the title cad and his faithful yet conflicted servant, Leporello, as well as three memorable female roles—multifaceted women who both suffer the Don's abuses. Yet for all his adversaries' plans to enact their revenge, only an otherworldly force from beyond the grave can put a stop to Giovanni's diabolical deeds.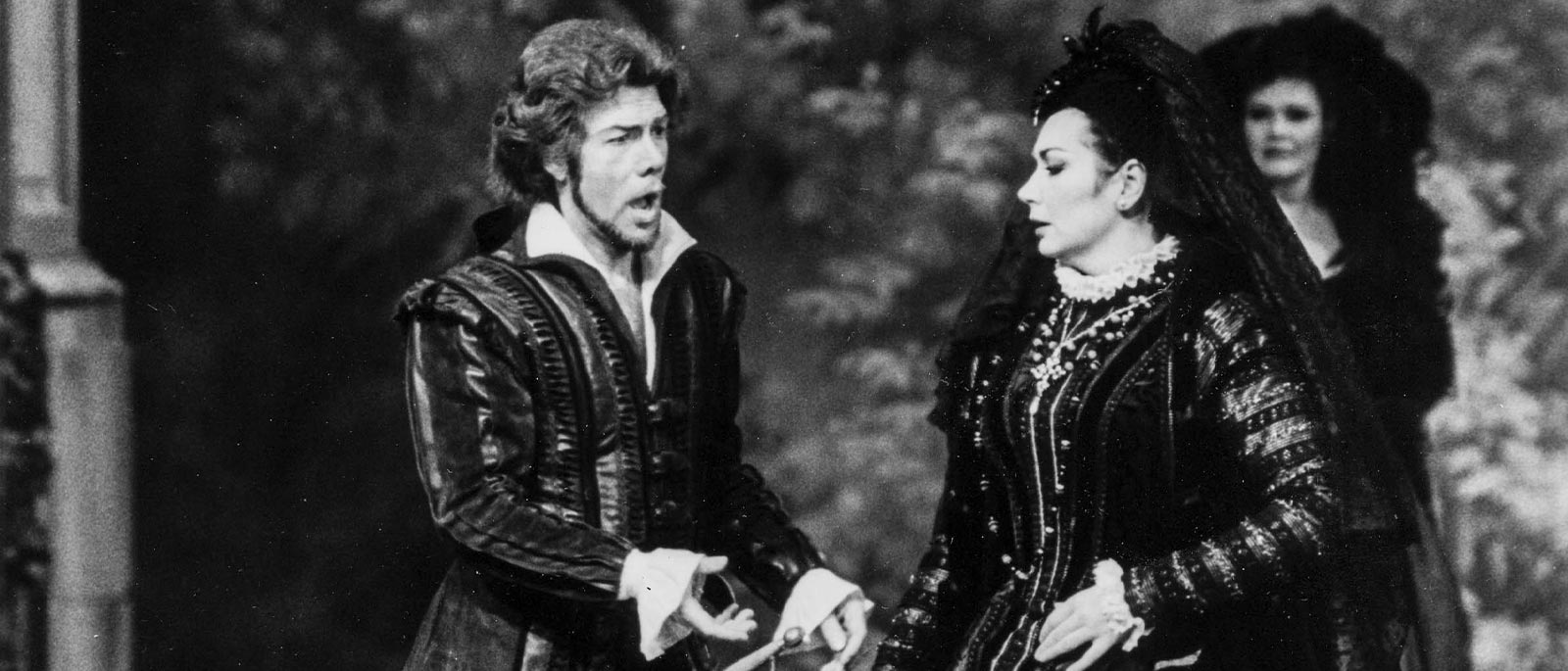 Every woman wants him, every man wants to be him: Mozart's version of the irresistible rogue who brings excitement with him and leaves destruction in his wake has always attracted top singing actors, as in this 1990 performance brilliantly led by James Levine. Samuel Ramey is Don Giovanni, pursued by the incandescent Karita Mattila (Donna Elvira) in her Met debut season and role, and by the white-hot avenging fury of Carol Vaness (Donna Anna.) Ferruccio Furlanetto delivers a masterful comic turn as the Don's servant, Leporello.
Thursday, May 13, Wagner's Tristan und Isolde
Inspired by Wagner's own tortured affair with the wife of his patron, this searing masterwork is based on Arthurian legend and tells of an illicit romance between a Breton nobleman and the Irish princess betrothed to his uncle and king. The composer's larger-than-life sensibilities are on full display throughout the score: Along with intoxicating orchestral music that surges in tandem with the couple's burgeoning passion and a chord left symbolically unresolved until the last moments of the opera, the opera also features one of the repertory's most soaring and ecstatic final climaxes, as Isolde surrenders to a love so powerful that she transcends life itself. In this 1999 telecast, see tenor Ben Heppner—a 1988 National Council winner—take on the heroic role of Tristan.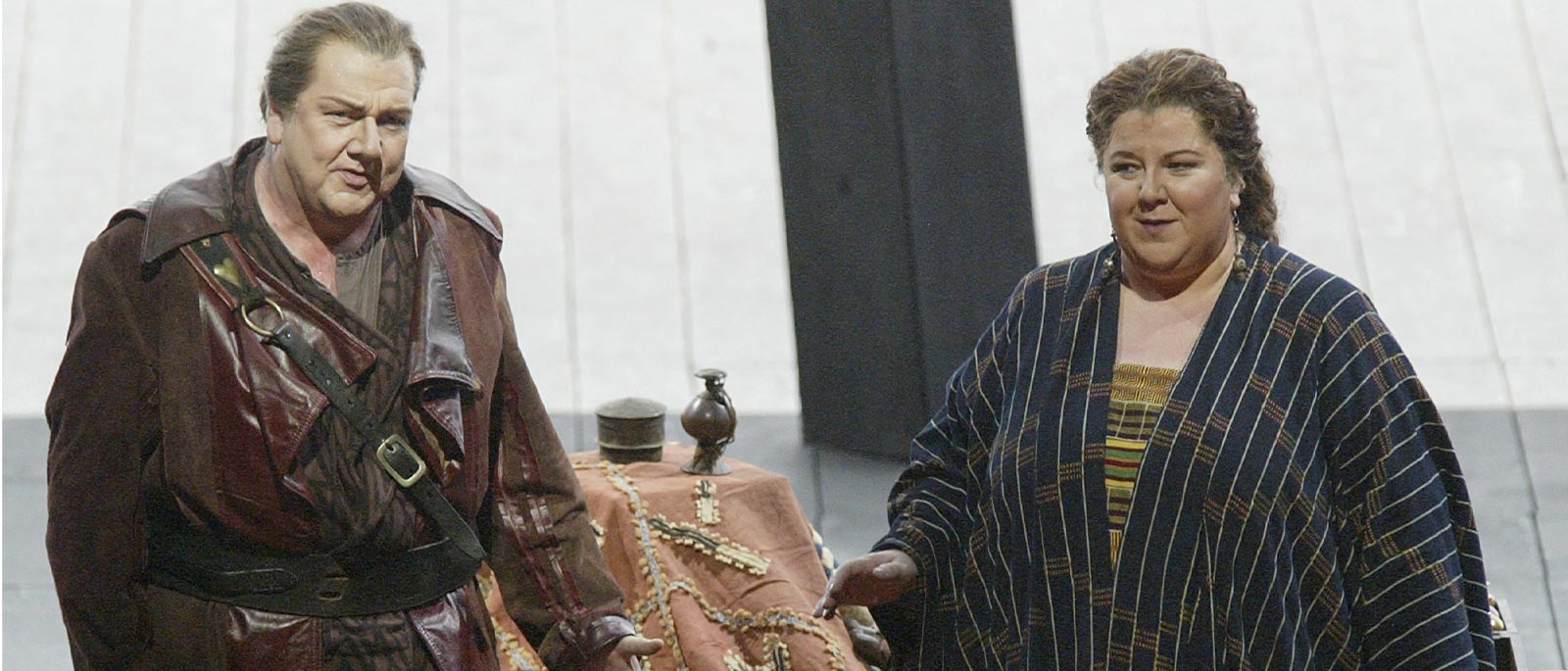 The utter timelessness of Wagner's masterpiece is superbly captured in Dieter Dorn's 1999 production, designed by Jürgen Rose. It strips away the usual visual ballast from the drama to reveal the searing emotional truth at its core. Under James Levine's probing conducting the great Met orchestra is a central character in the story. Ben Heppner and Jane Eaglen are Tristan and Isolde, overwhelmed by their all-consuming love for each other which defies society and the law. René Pape is a devastating King Marke, the man robbed of his wife by his best friend. Hans-Joachim Ketelsen and Katarina Dalayman complete the cast.
Friday, May 14, Strauss' Der Rosenkavalier
Winning the 1988 National Council Auditions alongside Heppner were a pair of artists destined for major international careers: soprano Renée Fleming and mezzo-soprano Susan Graham. In this 2010 Live in HD transmission, see them share the stage in Strauss's poignant comedy Der Rosenkavalier. After scandalizing the opera world with Salome and Elektra—a pair of stark, psychoanalytic portraits of biblical and ancient Greek heroines—the composer created this modern drawing-room farce to great popular acclaim. The work, which follows the sexual indiscretions and romantic entanglements of several aristocratic characters, presents love, desire, and nobility as distinctly double-sided coins: coming-of-age discovery vs. the wisdom of aging, and the thrill of pursuing new desires vs. noble self-sacrifice for the greater good. The score draws on a rich orchestral palette that would come to define the composer's mature work.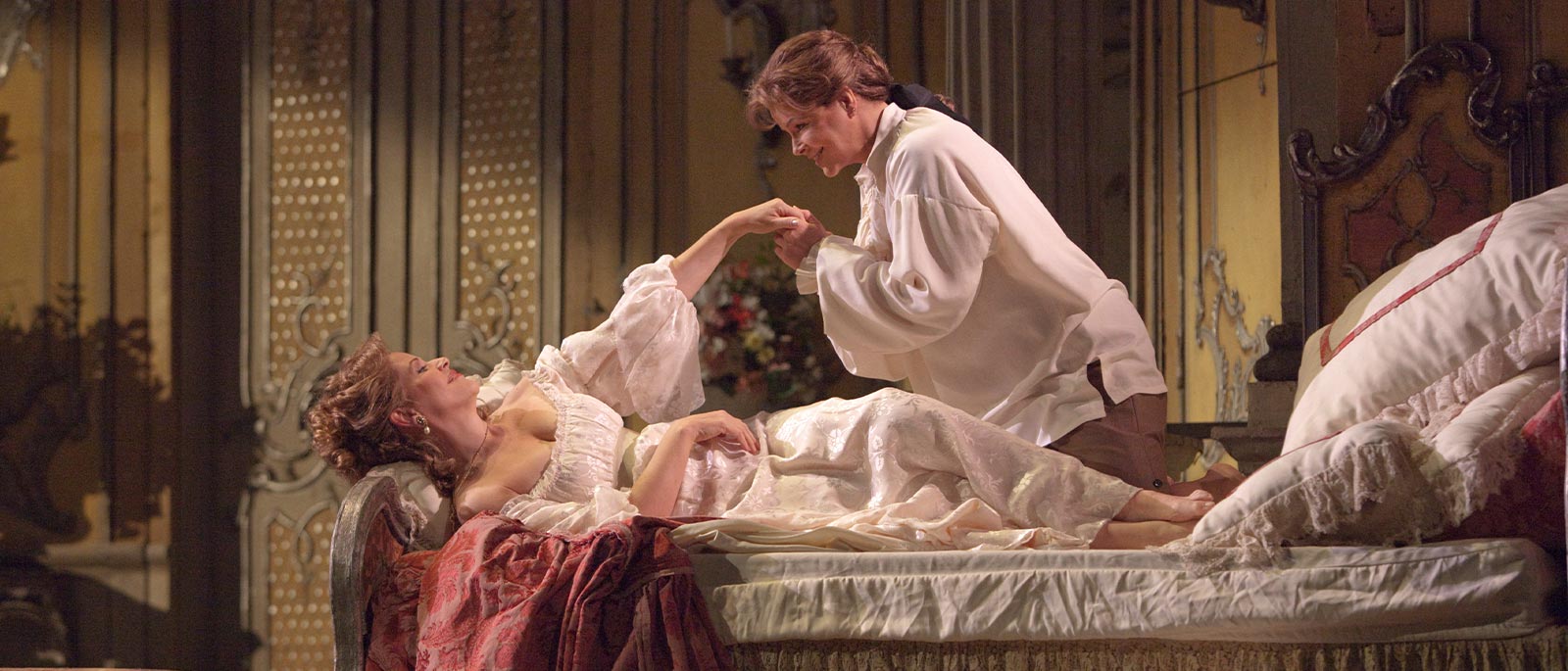 This 2010 production of Strauss's most sumptuous work by director Nathaniel Merrill and designer Robert O'Hearn is almost as beloved as the opera itself. It perfectly captures the glittering never-land of rococco Vienna the way the Viennese—and the rest of the world—wish it had been, and it's the ideal setting for an adult comedy of love and errors. Susan Graham is the aristocratic young Octavian, torn between two women: Renée Fleming as the Marschallin, the mature woman who understands that one day Octavian must leave her; and Christine Schäfer as Sophie, the young girl who unexpectedly captures his heart. Kristinn Sigmundsson is the lecherous Baron Ochs who sets the whirling plot in motion, and Edo de Waart conducts.
Saturday, May 15, The Audition
A leader in the cinema verité style—where one does not script or narrate a film but rather lets the events themselves tell the story—Oscar-nominated documentarian Susan Froemke turned her eye to the Met's storied National Council Auditions in 2007. The result was The Audition, which follows a dozen of opera's brightest young stars as they prepare to compete in the Grand Finals Concert on the Met stage. Pulling back the curtain on one of the world's most prestigious vocal competitions, the film offers its fair share of triumphs and tragedies and features a number of artists who would go on to have major international careers, including Angela Meade, Jamie Barton, Michael Fabiano, and Alek Shrader.
The Audition (2007), directed by award-winning filmmaker Susan Froemke, looks at the intense pressures young opera singers face as they struggle to succeed in one of the most difficult professions in the performing arts. The feature-length documentary takes you behind the scenes at the Metropolitan Opera's National Council Auditions, where each year thousands of hopefuls compete for a cash prize, the chance to sing on the Met stage—and the opportunity to launch a major operatic career.
Sunday, May 16, Rossini's Il Barbiere di Siviglia
Still one of the world's most in-demand bel canto tenors two decades after winning the 2001 National Council Auditions, Lawrence Brownlee stars as Count Almaviva in this effervescent performance of Il Barbiere di Siviglia. One of opera's most beloved comedies, Rossini's irreverent farce about a feisty young noblewoman with a mind of her own has delighted operagoers for more than two centuries. Its setting—rustic Seville—and zany storyline call for a cast of ace performers with dazzling stage presence, sizzling comic timing, and vocal agility to spare, making this the perfect playground for virtuoso singers as well as an ideal viewing experience for audiences of all ages.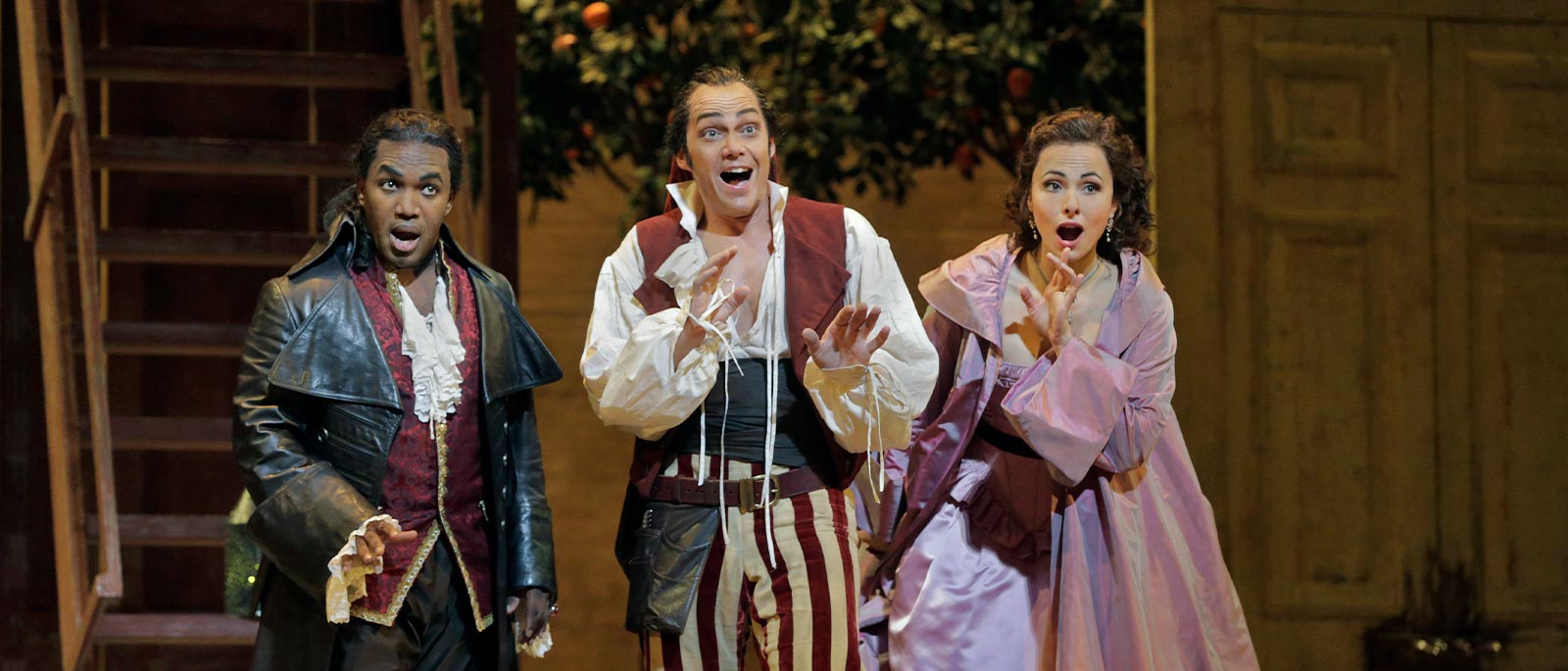 A youthful cast brings Rossini's immortal comedy to sparkling life, led by Christopher Maltman as Figaro, the resourceful barber and man-about-town of the title. The lovely Isabel Leonard is Rosina, the clever young woman at the center of the story, and Lawrence Brownlee sings Count Almaviva, the man who loves her and—with Figaro's help—rescues her from the house of her elderly and smitten guardian, Bartolo, played by Maurizio Muraro. Paata Burchuladze is the bumbling music master Basilio, and rising conductor and bel canto specialist Michele Mariotti leads the Met's musical forces in Bartlett Sher's lively 2014 production.
Monday, May 17, Donizetti's Roberto Devereux
In 2015–16, soprano Sondra Radvanovsky—a 1995 National Council Auditions winner—pulled off a rare feat: tackling all three of Donizetti's Tudor queens over the course of one season. The payoff was immense, as it gave operagoers a chance to experience the subtle trajectory of his character portraits—from the tragedy of circumstance facing the young Anne Boleyn to the touching inner turmoil of an aging Elizabeth I as she worked through her feelings for Robert Devereux, a much younger nobleman charged with treason, in the final opera of the trilogy.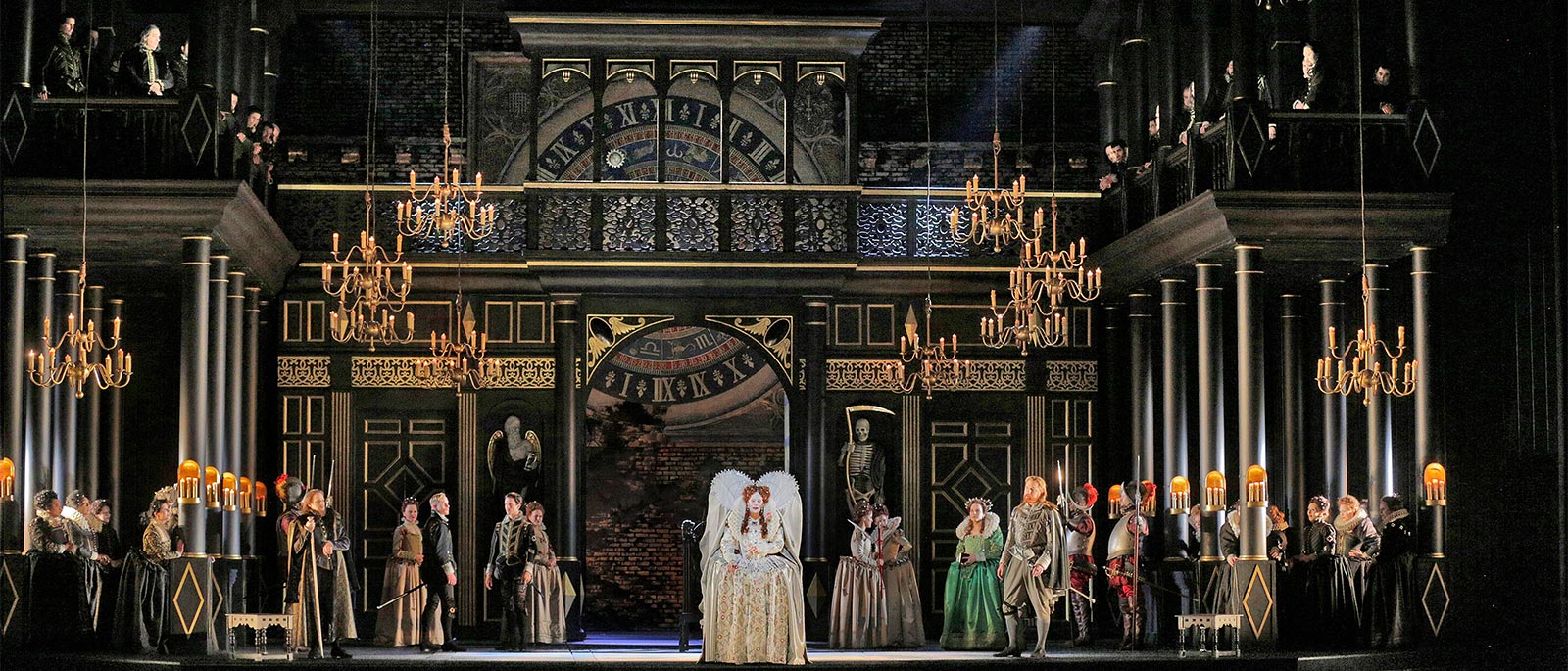 Soprano Sondra Radvanovsky completes her season-long exploration of Donizetti's three Tudor queen operas, starring as Elizabeth I in this final installment. David McVicar's atmospheric 2016 production frames the dramatic and heart-rending love story of the queen and the Earl of Essex as a play within a play unfolding before the members of the royal court. Radvanovsky's portrayal of the aging monarch is a tour de force, laying bare the conflict between her public duties as ruler of England and her private feelings as a woman. Matthew Polenzani is the Earl of Essex, Roberto Devereux, the object of her affections who is torn between two women. Elīna Garanča as Sarah and Mariusz Kwiecien as her husband, the Duke of Nottingham, complete the quartet of principals. Maurizio Benini conducts.
Week 62: Unhinged Mad Scenes
Tuesday, May 18, Bellini's I Puritani
Soprano Anna Netrebko took New York by storm when she performed the role of the fragile Puritan maiden Elvira. Her daring take on the heroine's famous mad scene earned her rapturous standing ovations from sold-out houses night after night. Overflowing with ravishing arias and ensembles, this bel canto gem also stars Eric Cutler as Elvira's love Arturo, Franco Vassallo as her suitor Riccardo, and John Relyea as her uncle Giorgio. From January 6, 2007.
Wednesday, May 19, Mozart's Idomeneo
Tenor Matthew Polenzani brings both steely resolve and compassionate warmth to the title king of Crete, who is faced with an impossible decision. With her rich mezzo-soprano, Alice Coote sings the trouser role of Idomeneo's son Idamante, who loves the Trojan princess Ilia, sung with delicate lyricism by Nadine Sierra. Elza van den Heever gives a thrillingly unhinged portrayal of the jealous Elettra. Jean Pierre-Ponnelle's timeless production blends the grandeur of ancient myth with the elegance of Enlightenment ideals. From March 25, 2017.
Thursday, May 20, Mussorgsky's Boris Godunov
Stephen Wadsworth's production of Mussorgsky's epic masterpiece brilliantly captures the suffering and ambition of the Russian people at a critical time in their nation's history. René Pape is riveting as the Tsar of the title, giving a commanding and charismatic performance of one of the greatest bass roles in the repertoire—his Boris is dominating, tortured, flawed and utterly unforgettable. The extraordinary cast and the Met Orchestra and Chorus are led by Russian maestro Valery Gergiev, the foremost Mussorgsky interpreter of our time. From October 23, 2010.
Friday, May 21, Bellini's La Sonnambula
Just as a young woman is about to marry her sweetheart, she is discovered—by the entire village, to say nothing of her fiancé—asleep in the bedroom of a stranger. It takes the young man two acts to figure out that sleepwalking is to blame, and everything ends happily. Natalie Dessay as Amina and Juan Diego Flórez as Elvino deliver bel canto magic and vocal fireworks in Mary Zimmerman's 2009 production. The Tony award-winning director transfers Bellini's bucolic tale to a rehearsal room in contemporary New York, where an opera company rehearses La Sonnambula—and where the singers are truly in love with each other. From March 21, 2009.
Saturday, May 22, Verdi's Nabucco
The opera that first made composer Giuseppe Verdi famous. Placido Domingo portrays Nabucco, the King of Babylon, who is supernaturally driven mad when he proclaims himself God, then restored to health when he repents. Liudmyla Monastyrska is the cruel and treacherous Abigaille, supposedly Nabucco's oldest daughter but actually a slave, who seizes the crown and plots the death of her sister Fenena (Jamie Barton), who loves Ismaele (Russell Thomas), as does Abigaille. With Dmitry Belosselskiy as the High Priest of Jerusalem, Zaccaria.From January 7, 2017.
Sunday, May 23, Donizetti's Lucia di Lammermoor
One of the glories of the operatic world, is legendary Joan Sutherland's portrayal of Donizetti's hapless heroine is a multifaceted and moving characterization. This telecast offers a rare opportunity to see Sutherland in the role that first catapulted her to international stardom. She drove audiences wild by the way her opulent voice caressed the music's long phrases and sprinted effortlessly through the fiendish runs, trills, embellishments and stratospheric high notes. . The incomparable tenor Alfredo Kraus is Edgardo, the man Lucia loves but cannot have.From November 13, 1982.
Monday, May 24, Tchaikovsky's The Queen of Spades
Elijah Moshinsky's atmospheric production, designed by Mark Thompson, sets the stage for this gripping performance of Tchaikovsky's passionate setting of Pushkin's classic novel. Valery Gergiev's idiomatic and authoritative conducting inspires a superb cast, headed by Plácido Domingo (Ghermann), breathtaking in his portrayal of a man unraveling toward suicide. Galina Gorchakova is Lisa, the woman he loves and destroys, Dmitri Hvorostovsky lends a superb voice and regal bearing to Prince Yeletsky; and Elisabeth Söderström is hair-raising as the old Countess. Olga Borodina is Paulina and Nikolai Putilin is Count Tomsky. From April 15, 1999.
Week 63 : Rare Gems
Tuesday, May 25, Massenet's Thaïs
When the most voluptuous, sought-after courtesan in the world meets an ascetic monk whose life is devoted to God, you know erotic sparks are going to fly. And when the clash takes place in a glorious, but rarely performed, opera by Massenet, it's a delight to the ear just as much as to the eye. Renée Fleming is every inch the glamorous Thais, swathed in elegant gowns designed by Christian Lacroix. Thomas Hampson is the tortured man of God. This production by John Cox, which premiered in December 2008, brilliantly sets the stage for a confrontation as old as civilization itself. From December 20, 2008.
Wednesday, May, 26, Borodin's Prince Igor
Dmitri Tcherniakov's acclaimed new production of Borodin's Russian epic stars Ildar Abdrazakov in the title role of the tormented prince who leads his army against the Polovtsians. The stellar all-Russian-language cast also includes Oksana Dyka as his wife, Yaroslavna, Anita Rachvelishvili as Konchakova, Sergey Semishkur as Igor's son, Vladimir, Mikhail Petrenko as Prince Galitzky, and Štefan Kocán as Khan Konchak. Gianandrea Noseda conducts the Met's vast musical forces in this colorful score, which includes the celebrated Polovtsian Dances.From March 1, 2014.
Thursday, May 27, Donizetti's La Donna del Lago
Rossini's romantic retelling of Sir Walter Scott's epic poem The Lady of the Lake. Joyce DiDonato is Elena, the title heroine, who is being pursued by not one, but two tenors—setting off sensational vocal fireworks. Juan Diego Flórez is King James V of Scotland, disguised as the humble Uberto, and John Osborn sings his political enemy, and rival in love, Rodrigo Di Dhu. Complicating matters is the fact that Elena herself loves Malcolm, a trouser role sung by mezzo-soprano Daniela Barcellona, and that she is the daughter of Duglas (Oren Gradus), another of the king's political adversaries. Paul Curran's atmospheric production is conducted by Michele Mariotti.From March 14, 2015.
Friday, May 28, Shostakovich's The Nose
Acclaimed artist William Kentridge directed and designed this visually dazzling Met premiere production of Shostakovich's satirical opera, adapted from the classic short story by Nikolai Gogol. Baritone Paulo Szot leads the cast as Kovalyov, the hapless bureaucrat whose nose has mysteriously gone missing. Alexander Lewis and Andrey Popov co-star, and Pavel Smelkov conducts. From October 26, 2013.
Saturday, May 29,Giordano's Fedora
The beloved Mirella Freni is seen in a brilliant star turn as Fedora Romazov, the Russian princess who falls in love with her fiancé's murderer (Count Loris) only to commit suicide when he denounces her. Sensational Plácido Domingo is a passionate Loris. Together they simply ignite the stage. Pianist Jean-Yves Thibaudet provides even more glamour by entertaining at the soirée in Act II. The sumptuous production is by Beppe De Tomasi, with sets by Ferruccio Villagrossi, and costumes by Pier Luciano Cavallotti. From April 26, 1997.
Sunday. May 30, Strauss' Capriccio
Renée Fleming is Countess Madeleine, the beautiful, enigmatic woman at the center of Strauss's sophisticated "Conversation Piece for Music." She is being courted by two men: Joseph Kaiser sings the composer, Flamand, and Russell Braun is Olivier, the poet. The stellar cast also includes Peter Rose as the theater director La Roche, Sarah Connolly as the actress Clairon, and Morten Frank Larsen as the Countess's brother. John Cox's elegant production places the action in the 1920s. Andrew Davis conducts. From April 23, 2011.
Monday, May 31, Rossini's Le Comte Ory
Rossini's rarely heard comedy receives a brilliant performance in Bartlett Sher's Met premiere production, with a trio of today's greatest bel canto stars in the leading roles: Juan Diego Flórez is Count Ory, a handsome rogue who finds women—all women—irresistible. Diana Damrau sings the virtuous Countess Adèle, and Joyce DiDonato is Isolier, the count's page, who is also in love with the countess. Jokes, misunderstandings, and gender-bending disguises—including knights dressed as nuns— abound in this hilarious tale of deception and seduction. Maurizio Benini conducts. From April 9, 2011.
Registration on the Met Opera site is free. Visit website